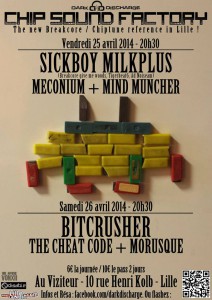 Dark Discharge vous attend au festival Chip Sound Factory avec du breakcore le Vendredi 25 Avril et du chiptune/8bit le Samedi 26 avril.
La soirée du vendredi vous surprendra avec le breakcore intransigeant de Méconium, l'electro-metalcore de Mind Muncher et le tweencore déjanté de Sickboy Milkplus.
Celle du samedi vous étonnera encore plus avec les maîtres du circuit bending(*) du label Dataglitch et leurs étranges machines sonores à produire du son 8bit, avec Morusque, Bitcrusher et leur projet commun, The Cheat Code.
Line-up 25 avril
Sickboy Milkplus (Breakcore give me woods/Tigerbeat6/Ad Noiseam)
https://www.facebook.com/pages/Sickboy-Milkplus/42751210066
Mind Muncher (NKS International)
https://fr-fr.facebook.com/mind.muncher.9
Méconium (NKS International)
http://meconium.tk/
Complété par une prestation VJing de TTanker
http://t.tanker.free.fr/
+ After DJ
Line-up 26 avril
Bitcrusher (Dataglitch)
http://bitcrusher.fr/
The Cheat Code (Dataglitch)
https://www.facebook.com/TheCheatCode
Morusque (Dataglitch)
http://www.nurykabe.com/
+ After DJ
Nous vous donnons donc rendez-vous au Viziteur (Resto Soleil) 10 rue Henri Kolb 59000 Lille, à partir de 20h30, les 25 et 26 avril 2014 pour deux soirées concerts décapantes.
6€ par soir sur place
10€ en prévente pour les deux soirées à l'adresse suivante:
https://www.yesgolive.com/dark-discharge/chip-sound-factory

https://www.facebook.com/events/484159905021551/